Cow Dog & Obedience Clinics
Come to one or hold your own!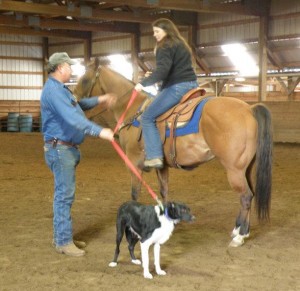 Marvin Pierce holds cow dog and obedience clinics most months here in Newberg, OR. These are tailored to small groups so every dog gets lots of instruction and attention.
Marvin will cover the fundamentals of starting a dog on cattle to fine-tuning a dog that's already working cattle. He'll also help folks overcome common and "not-so-common" obedience issues such as fighting, chasing horses, not coming when called and unruly & ill-mannered behavior.
Marvin's main objective is that folks leave the clinic with a dog that is better behaved, smarter on cattle and a pleasure to be around. And as always he wants everyone to have FUN! Some specifics that will be covered in the clinic are:
pen cattle using your dog
get your dog to "down" when asked
position you dog so you can get your cattle penned
have your dog come to you when called
teach your dog to leave your horses alone
keep your dog from fighting other dogs
address issues such as aggression, barking, running off, chasing horses/livestock and more
keep your dogs attention on YOU, no matter how busy and chaotic the environment
…as well as covering individual training issues and participant-generated requests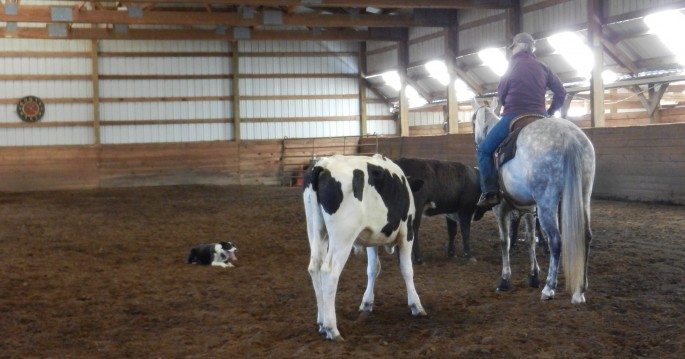 Upcoming Clinics will be posted in a banner on this page and the home page. Details for these clinics can be found by clicking on the link.
General Costs: (subject to change)
Friday Night Demo (if applicable – varies with each clinic) = FREE
1-day, 1-dog = $125
2-days, 1-dog = $200
2nd dog per day = $50
For information on UpComing Clinics please check out that page.
Clinics are limited in size so all the dogs get their fare share of attention and work. We require that you pay for your clinic online after you register to hold your spot.
You can use our "Conveniently Pay Online" page or Contact Marvin directly to make other payment arrangements. Please note that your spot will not be held unless it is paid for or other arrangements have been made.
We look forward to working with you and your dog!
---
Setting Up A Clinic
Do you have a large indoor arena and friends who have dogs? Do you want to hold a Cow Dog & Obedience Training Clinic at your own facilities? Marvin Pierce will travel to your arena to conduct a Cow Dog & Obedience Training Clinic.
You'll Provide:
Arena, Restrooms
Food, snacks, coffee for participants
Advertising & Promotion of Clinic
Participants and their dogs
Marvin Pierce Will Provide:
His dogs for demo purposes
Advertising for the clinic on his website
dog broke cattle or smaller stock (goats/sheep) – where possible
If you are interested in booking Marvin for a clinic, contact him to make arrangements.