The Hangin' Tree Cowdog Breed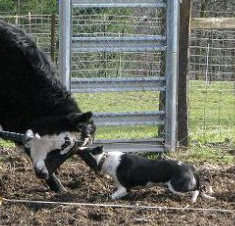 The Hangin' Tree Cowdog breed was developed by Gary Erickson. His goal was to develop a working dog that ranchers could effectively use in the field for handling cattle. Cowdogs are breed for their endurance and stamina to work hard all day long. A fully trained dog has enough bite and natural herding ability to move cattle where ever you want them.
Mr. Ericson has bred Hangin' Tree Cowdogs for over 20 years. They are a mixture Border Collie, Kelpie, and Catahoula Leopard, and Australian Shepard. The result in a medium sized dog with a heavy bone structure to meet the physical demands of working cattle. They come in a variety of colors including solid black, reds, merles and a mix of these colors. Their short coats shed dirt and burs easily, help withstand heat, and require little maintenance. Tails are docked at birth.
"These slick or short-haired cowdogs were originally bred by using a cross of approximately 1/8 Catahoula Leopard (for their slick coat and their ability to trail, find, and hold up cattle), 1/4 Australian Shepherd (Hangin' Tree Black Bear, who won both the Idaho and Montana Stockdog Championships and sold for $20,000.00, was the only Australian Shepherd used, because of his courage and ability to handle any kind of cattle), 1/4 Kelpie (for their endurance, short hair, and herding instinct), and 3/8 to ½ cattle-bred Border Collie (for their ease of training and handling, and their intense herding desire.) This has resulted in a tough cowdog that can easily be taught to trail and find cattle. Choc and Gary Ericsson originated the breed to be the cowboy's ultimate dog. It was named after the family brand–Hangin' Tree. The breed was designed for endurance, as many cowboys need a dog that can go all day and withstand harsh conditions…and sometimes even harsh treatment. Of utmost importance was the dog's ability to hit both heads and heels of cattle. The foundation stock that was selected for the original registry were intelligent, courageous, hardworking and loyal. These slick haired dogs don't collect burrs or stickers and withstand heat well. In winter, they develop a thick undercoat in colder climates. Eligible pups must demonstrate the ability to hit both heads and heels of cattle."
~ Gary Ericson

Hangin' Tree Cowdogs have an innate herding instinct from birth. This agile breed of dog is easy to train and is a loyal companion. With proper training, these dogs exhibit the ability to track and find cattle, herd them with precise control, and move the cattle where desired. They naturally want to bring the cattle to you.